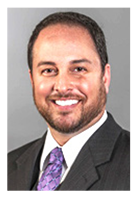 Sean Weiss
, CCP-P, ACS-EM, CPC, CPC-P, CPMA®
Sean specializes in medical audit and appeal representation. He and the NAMAS team of coding and compliance experts work with large and small healthcare practices that have been targeted by federal (Medicare), state (Medicaid), and commercial insurance payors. Sean delivers measurable financial results while helping clients reduce their financial risk of noncompliance with government agencies as well as providing quality care to their patients. Clients benefit from his knowledge of the inner workings of federal and state agencies such as the Office of Inspector General, Department of Justice and The United States Attorney's Office. Having protected thousands of physicians, medical practice groups, hospitals, and medical management societies from undue penalties, he is recognized as an expert in the field of medical compliance.
Sean develops custom compliance plans for healthcare organizations and serves as the third-party compliance officer for facilities that do not have the capacity for hiring this position.
Agencies such as the Office of Inspector General routinely contact Sean for guidance on interpretation of complex Medicare guidelines, regulations and statutes and on methodologies for structuring studies to be conducted. He represents the voice of healthcare providers, medical societies, and integrated health systems on key legislative issues when working with members of Congress and other government agencies.
Sean is a sought-after speaker and has delivered keynote addresses for countless professional societies and healthcare organizations across the country. With an engaging yet no-nonsense style, he presents workable solutions to the latest issues surrounding healthcare compliance, medical auditing, practice and revenue cycle management as well as other topics.
Sean is a published author and also a contributing author to several model programs for HIPAA, OIG, and OSHA and he has provided input to medical organizations' personnel policies and compliance procedures. Additionally, Sean has shared his experience with tens of thousands of readers each month through contributions to print and online publications on the topics of Medicare, evaluation and management services, coding, fraud and abuse compliance, and medical practice management. These publications include JAMA, Medical Economics, Part B News, BC Advantage, The Coding Edge, and MGMA Connections.
Prior to joining NAMASt, Sean held executive and senior level positions with some of the industry's largest and most respected organizations. He helped these organizations secure financial stability and growth through the application of streamlined compliance systems. These organizations include DecisionHealth, The CMC Group, Tenet Health Systems of the Southeast, The Medical Management Institute, and Columbia/HCA – The Healthcare Company. Sean also served on the Ethics and Compliance Steering Committee at Columbia/HCA, which developed policies and procedures to help decipher complex regulatory issues.
Sean attended Life College in Marietta, Georgia, where he studied Business Administration with a concentration in Health Care Management. He also attended Capella University where his concentration was in Legal Studies. Sean holds numerous national certifications including Certified Compliance Professional (CCP-P), Certified Professional Medical Auditor (CPMA), Certified Professional Coder (CPC), Certified Professional Coder-Payer (CPC-P), and Advanced Coding Specialist-Evaluation and Management Services (ASC-EM).
Learn about some of our other team members:
SHANNON DECONDA
PAM VANDERBILT
GRANT HUANG
SCOTT KRAFT
PAUL SPENCER
STEPHANIE ALLARD