June 4, 2021 | By Cheryl A. Cyrus, RHIT, CPMA, CDEO, CRC, Comforcehealth, Quality Assurance Auditor
As of January 1, 2021, we have been given new Evaluation and Management Guidelines for Outpatient Office and Ambulatory services that encompass specific areas of risk defined in the SDOH (Social Determinants of Health).  As a Profee auditor, I am reviewing records with templates that have no data. I applaud the EMR (Electronic Medical Record) analysts who have been proactively added these items, however, in order to convey the full picture of the patient's circumstances, the data must be complete.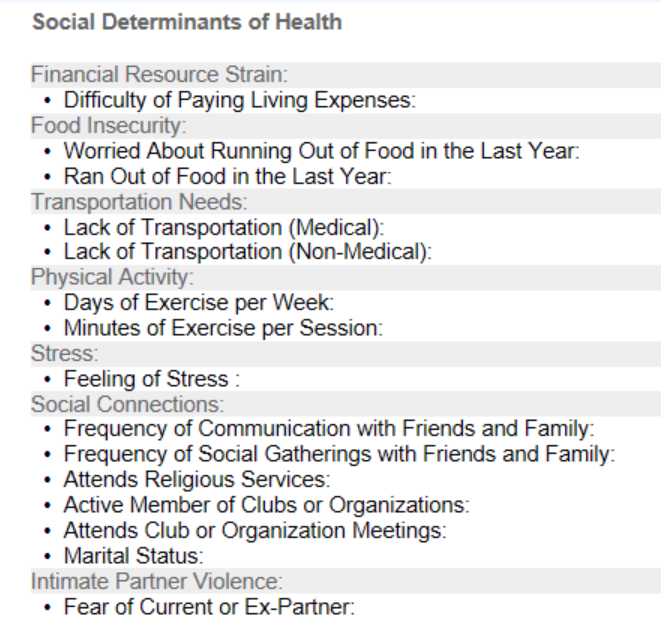 SDOH elements are specifically utilized in accordance with a Level 4 Service as defined in the Risk Section of the 2021 AMA Guidelines, the example is shown below: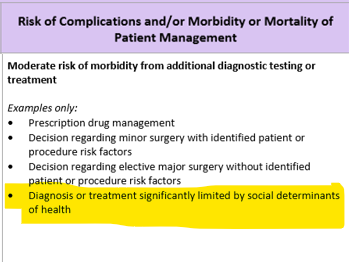 As an auditor, I want to be sure that healthcare providers and facilities are provided with the education to capture these elements. This not only impacts the provider's overall medical decision making (MDM), but may impact the associated healthcare facility and ultimately, reimbursement.
For patients living in underserved and poverty-challenged areas of our country, the SDOH elements are significant. In many cases, they will seriously impact a patient's treatment, morbidity, and mortality. I have seen many examples of the impact of items related to SDOH, however, this data is usually not readily available. It takes Sherlock Holmes' like skills to uncover the data as it lies in a random telephone call or R.N. follow-up note.
For example, the loss of a job may also result in the loss of medical insurance, impacting the patient's ability to pay for services. If they lack transportation, receiving weekly injections for a condition that may ultimately be cured or have a long-term impact on their overall condition and healthcare status becomes more of a challenge. The lack of family support could affect a patient with mental illness and the overall treatment they need to gain coping mechanisms, counseling, or other services, potentially causing their condition to deteriorate further. We know the costs to the patient's health but this may lead to hospitalizations and extended treatment, more costs, passed on to our already overwhelmed healthcare system.
The 2021 E&M Guidelines do not specify that this information must be captured by the healthcare provider, such as a physician, nurse practitioner, or physician's assistant. ICD 10 Guidelines states:
"Patient self-reported documentation may also be used to assign codes for social determinants of health, as long as the patient self-reported information is signed-off and incorporated into the health record by either a clinician or provider."
This can be easily captured by the medical assistant or nurse who rooms the patient as they are also documenting the patient's chief complaint, objective elements such as vital signs, weight and BMI, the patient's current medications, and any concerns the patient would like to address with the provider.
Being a patient myself, I realize that people are very private and do not want to readily disclose this information. These are difficult questions, but we need to be able to connect with patients in a way that makes them feel comfortable and know we are here to help and not pass judgment. We want to make sure and provide them with the most proper care and be empathetic to their situation.
I also realize that providers are overwhelmed with documentation requirements. I know that there are 300+ clicks (as many providers have expressed) with the mouse to get that office visit completed and charge capture elements just to send it on to the billing system.
As part of the Revenue Cycle team, I am hoping we can help to find a balance; a way to make sure that these elements are being captured in a workflow that makes the most sense for the provider's office, staff and patients. Perhaps our friends in social work or behavioral health can assist us with words or statements that make our patients feel more comfortable.
Finally, we are all aware of "not documented, not done". As Health Information Management professionals, let's be sure we capture information that, when taken into consideration, leads to additional services available for the patient. Since E&M Guidelines now do not require "counting elements", we can use this data to properly document the level of MDM more consistent with the patient's current status. We can then provide or refer the patient for additional services that may be helpful in the overall condition of the patients being cared for by our office. Knowledge is power and education is the key to success!