August 6, 2021 | By Sean M. Weiss, CHC, CMCO, CEMA, CPMA, CPC-P, CMPE, CPC
2021 has lived up to what, in my mind, I've dubbed back in December of 2020 "The Year of The Audit". The number of "raids", resolution agreements, settlement agreements, and audits by RACs, SMRCs, UPICs, and SIUs have led to an increase in anxiety for providers, administrators, and C-suites at large group practices, hospital networks, and integrated delivery health systems. In July, The Department of Health and Human Services and Justice has released their annual Health Care Fraud and Abuse and Control Program for Fiscal Year 2020. So, what does the report say?
To recap:
"The Federal Government won or negotiated more than $1.8 billion in health care fraud judgments and settlements, in addition to other health care administrative impositions.
Almost $3.1 billion was returned to the Federal Government or paid to private persons in FY 2020.

Of this $3.1 billion, the Medicare Trust Fund received transfers of approximately $2.1 billion during this period, in addition to the $128.2 million in Federal Medicaid money that was similarly transferred separately to the Treasury due to these efforts.

The Department of Justice (DOJ) opened 1,148 new criminal health care fraud investigations
Federal prosecutors filed criminal charges in 412 cases involving 679 defendants
A total of 440 defendants were convicted of health care fraud-related crimes during the year
DOJ opened 1,079 new civil health care fraud investigations and had 1,498 civil health care fraud matters pending at the end of the fiscal year
Federal Bureau of Investigation (FBI) investigative efforts resulted in over 407 operational disruptions of criminal fraud organizations and the dismantlement of the criminal hierarchy of more than 101 health care fraud criminal enterprises
HHS' Office of Inspector General (HHS-OIG) investigations resulted in 578 criminal actions against individuals or entities that engaged in crimes related to Medicare and Medicaid, and 781 civil actions, which include false claims and unjust enrichment lawsuits filed in federal district court, civil monetary penalties (CMP) settlements, and administrative recoveries related to provider self-disclosure matters.
HHS-OIG also excluded 2,148 individuals and entities from participation in Medicare, Medicaid, and other federal health care programs.

Among these were exclusions based on criminal convictions for crimes related to Medicare and Medicaid (891) or to other health care programs (316), for patient abuse or neglect (230), and as a result of state health care licensure revocations (509).

HHS-OIG also issued numerous audits and evaluations with recommendations that, when implemented, would "correct program vulnerabilities and save Medicare and Medicaid funds".
Sequestration also had an impact due to sequestration mandatory funding:
"DOJ, FBI, HHS, and HHS-OIG had fewer resources to fight fraud and abuse of Medicare, Medicaid, and other health care programs.
A total of $11.0 million was sequestered from the HCFAC program in FY 2020, for a combined total of $150.6 million in mandatory funds sequestered in the past eight years.

Including funds sequestered from the FBI ($70.0 million in the past eight years), $220.6 million has been sequestered from mandatory HCFAC funds since FY 2013".
So, what does all this mean? The simple answer is the Attorney General and the Secretary of HHS set specific program goals moving forward, which are not all that different from the goals already in place:
"To coordinate federal, state, and local law enforcement efforts relating to health care fraud and abuse with respect to health plans;
To conduct investigations, audits, inspections, and evaluations relating to the delivery of and payment for health care in the United States;
To facilitate enforcement of all applicable remedies for such fraud; and
To provide education and guidance regarding complying with current health care law. Additionally, the Act requires the Attorney General and the Secretary to submit a joint annual report to the Congress that identifies both:

"The amounts appropriated to the Trust Funds for the previous fiscal year under various categories and the source of such amounts; and
The amounts appropriated from the Trust Funds for such year for use by the Attorney General and the Secretary and the justification for the expenditure of such amounts".
I am a visual person, so if you are like me, let's look at this in chart form: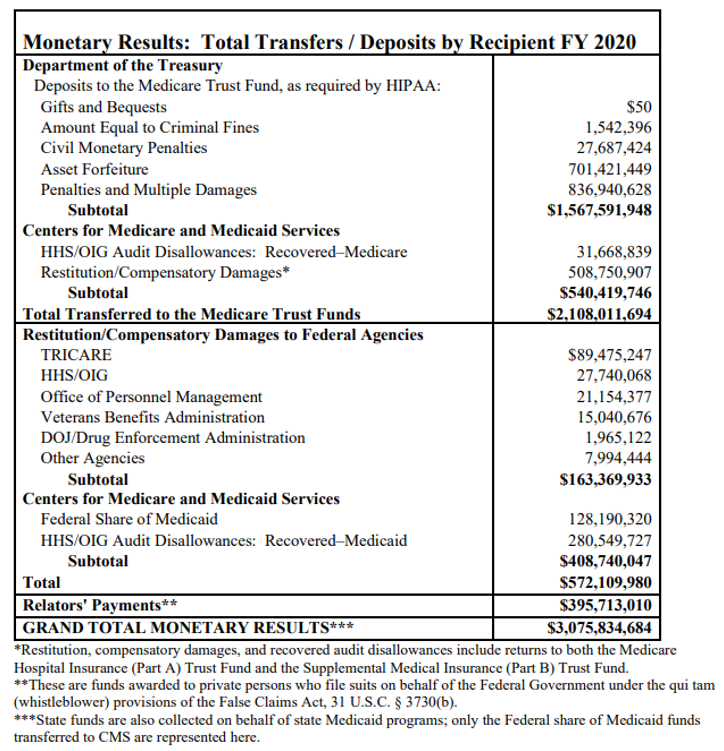 Below is a breakdown of expenditures for the $308.7 million in mandatory funding for the program less the $11 million in sequestered money as required by law. It should also be noted the Congress appropriated an additional $786 million in discretionary spending: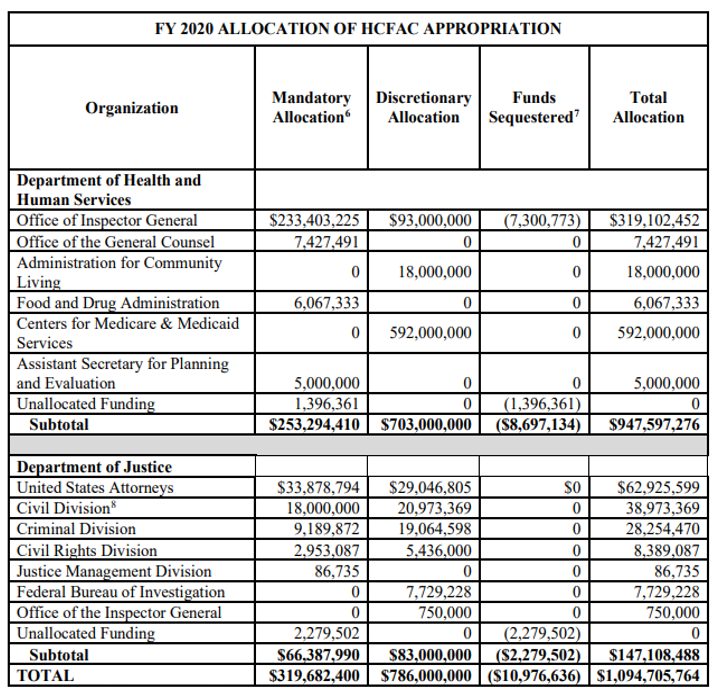 The last aspect I want to address is the National Rapid Response Strike Force (NRRSF). In 2020, the NRRSF was created, which is comprised of dedicated prosecutors who target large-scale and multi-jurisdictional schemes occurring across the country.
The new Strike Force reported:
Alleged $1.4 billion billing fraud scheme perpetrated through a series of rural hospitals, in the Middle District of Florida;
Prosecutions of laboratory owners and operators for kickback offenses, responsible for alleged losses in the hundreds of millions; and forms of fraud exploiting the coronavirus disease 2019 (COVID-19) pandemic.
Activities have also expanded to include significant involvement from State Medicaid Fraud Control Units (MFCUs), which play a critical role in the many fraud cases involving both Medicare and Medicaid.
During FY 2020, Strike Force accomplishments in the areas noted above, as well as USAO accomplishments included:
Filing 263 indictments, information, and complaints involving charges against 405 defendants who allegedly billed federal health care programs and private insurers more than $4.7 billion;
Obtaining 254 guilty pleas and trying 24 jury trials, with guilty verdicts against 30 defendants; and
Securing imprisonment for 254 sentenced defendants, with an average of nearly 42 months of incarceration per sentenced defendant.
Since its inception, the Strike Force has proven to be a significant weapon for the government in its quest to combat Fraud, Waste and Abuse in the healthcare program. In fact, prosecutors filed more than 2,100 cases charging more than 4,600 defendants who collectively billed federal health care programs and private insurers approximately $23.0 billion; more than 3,000 defendants pleaded guilty and over 390 others were convicted in jury trials; and more than 2,800 defendants were sentenced to imprisonment for an average term of approximately 50 months.
In the coming weeks, I will break down more of this 120-page report issued by the Departments of Health and Human Services and Justice. Stick around because there is so much more to come… There is no doubt that 2022 will be "The Year of the Audit on Steroids"!
Source: FY2020 Health Care Fruad and Abuse Control Program Annual Report (hhs.gov)  (authors note: the government spelled Fraud wrong in the link above… The government's M.O. "close enough is good enough"!