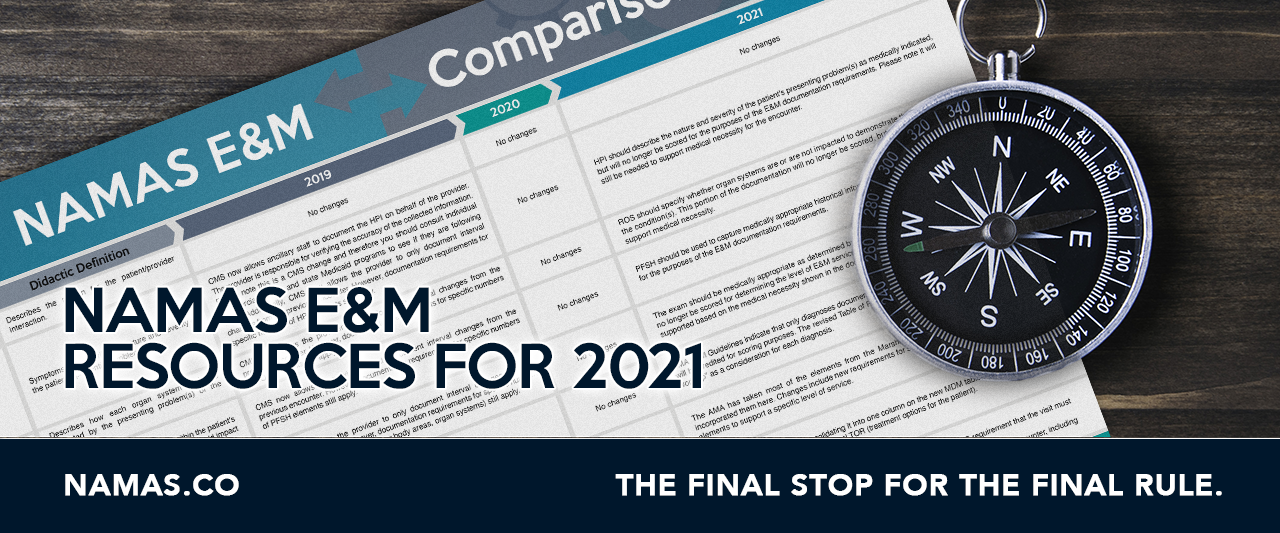 Training Prep: Step-by-Step
This step is recommended for implementation February 2020
Most providers have only been taught documentation requirements since residency. The best way to approach this change is to first conduct training identifying this requirement by Medicare in the Claims Processing Manual.
Be sure to define the difference in medical necessity and clinical decision for medical intervention. Inform the providers that complexity of care as demonstrated by the medical necessity is based completely on the documentation of each patient encounter.
Use the medical necessity tool found on the reverse side of the comparison chart to identify how to use medical necessity to select the appropriate level of service.
Integration of current sample charts (HIPAA compliant) should be used as a hands-on session to practice what is learned.
Shadowing is an extension of the hands-on application of Step One. This step should begin within 9-12 weeks of the completion of Step One. Completion should be approximately April 30, 2020, but may vary based on the size and difficulty of scheduling within your organization.
While most providers are not as receptive to shadowing during clinic, this exercise can be quite effective in another hands-on learning technique. Discussing the encounter, the complexities or the lack thereof and identifying the best approach to documentation content by focusing not on maxing out the requirements, but rather purposeful documentation to demonstrate complexity to support the most appropriate medical necessity.
Review of documentation vs. coding. Upon maintaining the above pace for training, this step should begin around May 2020 and should be conducted over the next 4 months. Again, this may vary on sample size and organization size.
Now it is time to evaluate the return on the training investment from Steps One and Two. Review 5, 10, or 15 records per provider. The sample size should be encompassing enough, but keep in mind this is validation of education and not meant to take the place of your annual compliance review for. It may be prudent to show 4 main findings of each encounter for this review:
The level of service the provider selected
The level of service supported by the volume of documentation ONLY
The level of service supported by the medical necessity ONLY
The overall level of service that should have been billed to the carrier
Including each one of these will provide a basis for educating in proficiencies and deficiencies on selecting the level of service. Of note, if your organization has been requiring MDM as the key indicator for the level of service, we would recommend having it as a main finding as well to educate on this difference.
Feedback
No review (ie., audit) is complete without feedback and education on any noted changes, why the changes were needed, and efficient strategies to implement for documentation improvement while maintaining patient care as the focus of each encounter. 65% of the population are visual learners and by nature many providers are analytical thinkers. Therefore, a combination of the two should lead to an effective educational approach.
Of the records review, pull 2-3 samples and be sure include examples of both incorrect and correct leveling of the E&M service.
Handwrite on these HIPAA compliant records direct feedback by encouraging additional elaboration with key points and noting streamlining in areas in which over documentation of the required components were noted.
Be clear and confident in your findings and keep reminding the provider that the patient should look as sick or as stable as they appeared at the time of the encounter.
Continue the review cycle and integrate 2021 changes.
Every 6-8 weeks continue to provide spot reviews on the providers who need additional training for better compliance. During each 6-8 week begin the push toward 2021 prep. Using a HIPAA compliant office-based encounter, audit one of the notes using the current 2020 documentation requirements and medical necessity guidelines. Now, take the same encounter and using 2021 rules audit the same note for a cross comparison of the new guidelines.
| Date | Title | Speaker |
| --- | --- | --- |
| March 23, 2020 | Broad Overview of E/M Changes | Shannon DeConda |
| April 27, 2020 | Defining the Differences in 2020 vs. 2021 | Grant Huang |
| May 18, 2020 | Medical Necessity & E/M Changes | Pam Vanderbilt |
| June 29, 2020 | History & Exam in 2021: The Quandary | Shannon DeConda |
| July 27, 2020 | Understanding MDM in 2021: Part 1 | Brenda Edwards |
| August 24, 2020 | Understanding MDM in 2021: Part 2 | Pam Vanderbilt |
| September 28, 2020 | Understanding MDM in 2021: Part 3 | Shannon DeConda |
| October 26, 2020 | Training Your Providers for 2021 | Scott Kraft |
| November 23, 2020 | Hands On 2020 vs. 2021 | Brenda Edwards |
| December 14, 2020 | Hands On/ Q&A | Pam Vanderbilt |
| City | Date |
| --- | --- |
| Orlando, FL | April 17, 2020 |
| Denver, CO | May 14, 2020 |
| New Orleans, LA | June 25, 2020 |
| Washington DC | August 18, 2020 |
| Chicago, IL | October 8, 2020 |
| Dallas, TX | November 10, 2020 |
Look for additional resources coming soon!
2020 vs. 2021 Audit Notes
Study Hall